Returning to Learning
Introduction l  Health and Safety l Communication: Family and Community Engagement lFacilities l Child Nutrition  l Transportation l Social-Emotional Well-Being l School Schedules l Attendance and Chronic Absenteeism l Technology and Connectivity l Teaching and Learning l Career and Technical Education l Athletics and Extracurricular Activities l Special Education l Bilingual Education and World Languages l Staffing l Key References
Introduction
At Valley Central, our primary commitment is to the students and families we serve. Our priority must be keeping them safe. When the 2020-2021 school year begins, on-campus school will look much different than previous years due to COVID-19 and the health and safety measures that continue to evolve.  This School Reopening Plan will define clear guidance for the reopening of our six schools and Alternative Learning Center and aligns with the regulations developed in collaboration with NYSDOH and the NYS Education Department. 
The areas outlined in this plan represent the myriad of considerations Valley Central will address to reopen schools safely and to sustain their safe operation. It is important to note that our plan retains a strong focus on academic instruction to enhance student performance and address learning loss.  An emphasis on the social-emotional needs of our students is a priority and therefore we have addressed this within our plan. 
This plan includes procedures that will be followed in all our schools. 
I would like to personally assure you that the Valley Central School District is placing the safety and health of our students, staff, and families above all else.   ~John P. Xanthis,  VCSD Superintendent of Schools
---
Health and Safety
The health and safety of our students, our staff and their families is our top priority. We want students and employees to feel comfortable and safe returning to school campuses. Learn more about Health and Safety in our Reopening Plan here. 
Communication: Family and Community Engagement
As part of its planning for the reopening of schools and the new academic year, the district has developed a plan for communicating all necessary information to district staff, students, parents/guardians, visitors, and education partners, and vendors. Learn more about Reopening Plan Communication here.
Facilities
In order to prevent the spread of COVID-19 infection in the district, facilities operations will be geared toward meeting social distancing requirements and cleaning frequently touched spaces regularly. Learn more about how VC is preparing our Facilities for Returning to Learning. 
Child Nutrition
School meals will continue to be available to all students, including those attending school in-person and those learning remotely. Learn more about how Child Nutrition will provided here. 
Transportation
Valley Central will conduct transportation activities that are consistent with state-issued public transit guidance and NYSED School Reopening guidelines. Learn more about how Transportation will be conducted according to the Reopening guidelines here. 
Social-Emotional Well-Being
At Valley Central, we are committed to prioritizing social-emotional well-being -not at the expense of academics, but in order to create the mental, social, and emotional space to access rigorous academic content with confidence. Our Social-Emotional Learning team has devised a plan that will focus specifically on how to best support students and staff in a blended learning model scenario, which includes a mix of both in-person and virtual classroom instruction. This plan includes considerations for teams to rapidly transition between face-to-face and continuous remote learning, which may be required based on the pandemic. Learn more about how VC will address Social-Emotional Well-Being in our "new normal" here. 
School Schedules
As of April 12th, Students will be progressively returned to 5-Day Instruction, if they have chosen that model over 100% online.  The hybrid model will be phased out.  Find the schedule for 5-Day Instruction here. 
All Valley Central Students will be separated into two teams: Team 1 and Team 2. Instruction will be a combination of in-person at 50% capacity, remote learning, and 100% online. Learn more about our School Schedules for Reopening here.  
Attendance and Chronic Absenteeism
All schools in the Valley Central will take daily attendance whether school is in-person, hybrid, or remote. Daily reports will be generated to identify students who are absent and/or chronically absent, so appropriate interventions can be taken to prevent and address absenteeism. Learn more about Attendance here. 
Technology and Connectivity
Valley Central will provide all students with access to learning materials and resources in multiple formats, wherever possible.  Further, the district will support teachers through professional development and coaching on pedagogical methods, so that they can demonstrate mastery of Learning Standards in remote or blended models. The district will address individual connectivity issues as well.  Learn more about Technology and Connectivity as we reopen here. 
Teaching and Learning
In an effort to assure high-quality teaching and learning a continuity of learning plan has been developed for the 2020-21 school year. This plan considers and plans for teaching and learning in-person, remotely, and through hybrid models of instruction. Equity is at the heart of all school instructional decisions. All instruction in our district will be designed so that whether it is delivered in-person, remotely, or through a hybrid model due to a local or state school closure, there are clear, comprehensive, and accessible learning opportunities for all students.  Learn more about Teaching and Learning during VC's Returning to Learning here.
Career Technical Education
While planning for CTE instruction, whether in-person, remote or hybrid models, Valley Central has collaborated with Orange-Ulster BOCES to ensure high school instructional plans are aligned. Learn more about CTE here. 
Athletics and Extracurricular
Athletics and Extracurricular opportunities are important to our students' educational experience.  Learn more here about how Athletics and Extracurricular activities will be impacted during Reopening. 
Special Education
Valley Central reopening plan provides a framework to ensure that all students with disabilities continue to have available to them a free appropriate public education (FAPE) that emphasizes special education and related services designed to meet their unique needs and prepare them for further education, employment, and independent living in the least restrictive environment (LRE). Learn more about Special Education as VC is Returning to Learning here. 
Bilingual Education and World Languages
Through using our district and BOCES resources, we are well prepared to reopen our schools and serve ELLs, MLLs, and students learning world languages as they expand their skills, knowledge, and facilities with languages. Valley Central will provide professional learning opportunities for our district that support best practices and equitable instruction for ELLs as well as general education students to help address learning gaps caused by the COVID-19 school closures. Learn more about plans for Bilingual and WLE here. 
Staffing
All staff will hold appropriate certifications and evaluations will continue.  The unknown vulnerabilities of our faculty and staff will be handled on a case-by-case basis with support from our Human Resources department. Accommodations, where appropriate, will be provided when and where needed. Learn more about Staffing in our Reopening Plan here.
---
Summer Letter from the Superintendent
Dear Valley Central Families,
I hope this communication finds you and your families well.  As you know, the COVID-19 pandemic has required all schools nationwide to develop plans which change the way they operate.  As we plan for a year that promises to be unlike any other, I am grateful for the feedback we have received from the Valley Central community and the hard work of the District team tasked with creating a framework that is placing the health, safety and well-being of every member of our school community above all else. 
Our reopening plan provides for the following scenarios: in-person instruction, hybrid instruction and online instruction.   Since our closure in March, we have been developing a plan utilizing the most current national, state and local information available, with close adherence to all federal and state guidance and mandates.  As we know, the guidance and mandates often quickly change. Please know our pledge remains to put our very best efforts into every single aspect of the reopening of schools for this school year.  This includes any plan adjustments we may need to make due to pandemic conditions and updated guidance/mandates as the year progresses.
The way Valley Central schools will operate this school year will look and feel different than previous years.  Please know that our commitment to your child's academic excellence is a momentous responsibility, especially during these challenging times, and we work hard every day to make Valley Central a district that we remain proud of – a great place for children. 
Most importantly, thank you to the entire Valley Central school community for your patience and understanding of the very difficult challenges we have addressed this past spring, and which we will continue to experience this school year. The trust you give to us in the education of your children inspires us every day.  We extend our hand to our entire community to once again work together with you for the success of our students this school year and beyond.
Sincerely,
John P. Xanthis
Superintendent of Schools
Survey Results 
A survey was sent to all district parents to learn what learning scenarios they were most comfortable with as we are Returning to Learning at VC.  There were 1,919 responses.  
 First Question: If school reopens in September with ALL Students attending every day: 
48.8% said they would send their children with reservations
34.5% said they would send their children without reservations
16.6% said would seek alternative education options, not send student back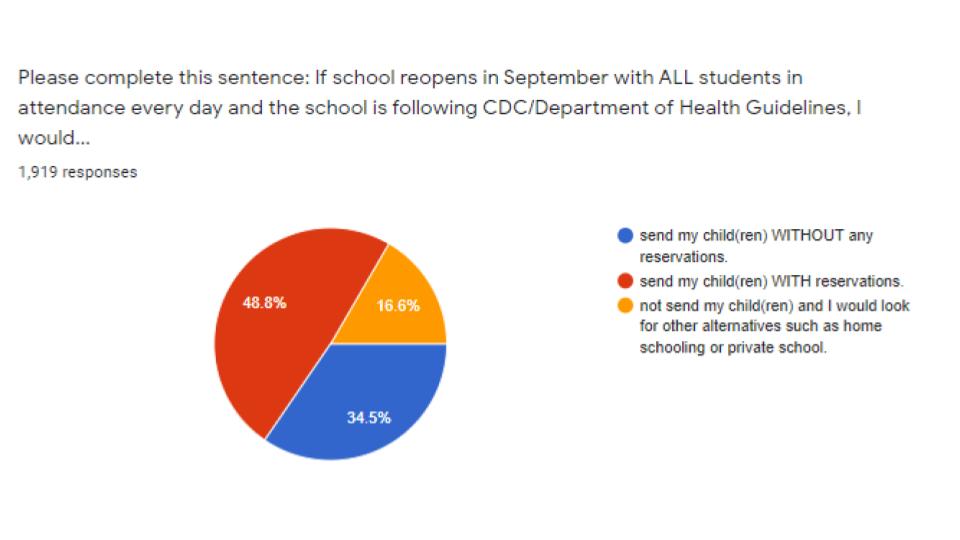 Second Question: If school reopens in September on a modified schedule with less student density: 
75.9% said they would send their children on the schedule directed 
17% said they would not send their children but have them participate online
7.1% said would seek alternative education options,not send student back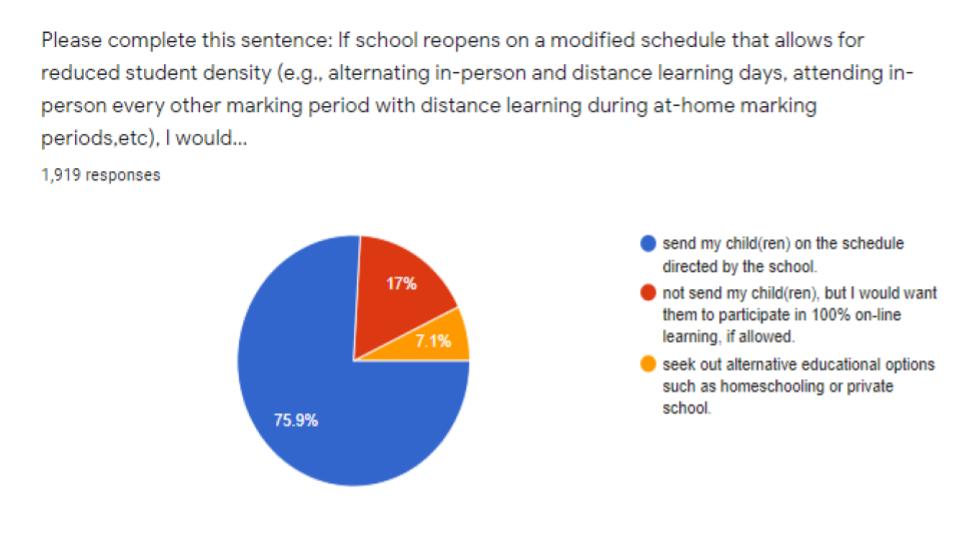 Third Question: If school does not reopen in September, and distance learning continues
60.1% said there need to be major changes to the distance learning format
29% prefer the same distance learning option to continue
10.9% said would seek alternative education options,not send student back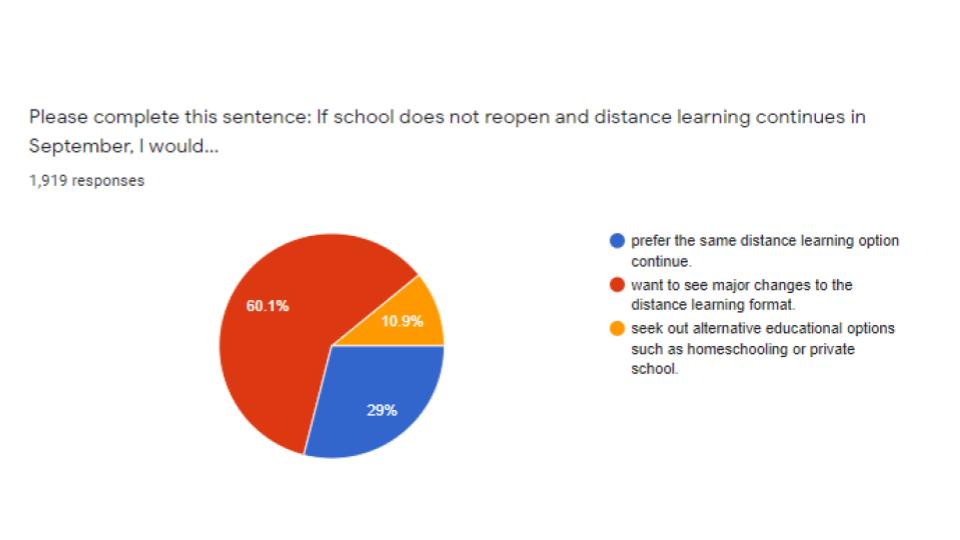 ---
946 State Route 17K, Montgomery, NY 12549
Phone: (845) 457-2400 ext. 11510
John Solimando, Principal, john.solimando@vcsdny.org
East Coldenham Elementary School
286 State Route 17K, Newburgh, NY 12550
Phone: (845) 457-2400 ext. 12510
Dan McDonald, Principal, dan.mcdonald@vcsdny.org
141 Union Street, Montgomery, NY 12549
Phone: (845) 457-2400 ext. 14510
Matthew Canino, Principal, matthew.canino@vcsdny.org
75 Orchard Street, Walden, NY 12549
Phone: (845) 457-2400 ext. 15510
Gregory Heidemann, Principal, gregory.heidemann@vcsdny.org
120 Broadway, Maybrook, NY 12543
Phone: (845) 457-2400 ext. 18138
Georgia Patchen, Administrator, georgia.patchen@vcsdny.org
1189 State Route 17K, Montgomery, NY 12549
Phone: (845) 457-2400 ext. 16510
Jayme Ginda-Baxter, Principal, jayme.baxter@vcsdny.org
1175 State Route 17K, Montgomery, NY 12549
Phone: (845) 457-2400 ext. 17510
Russell Burns, Co-Principal, russell.burns@vcsdny.org
Michael Conklin, Co-Principal, michael.conklin@vcsdny.org
To be clear, the health and safety of our students, our staff, and their families is our top priority. We have developed a plan that intends to ensure that students and employees feel comfortable and safe returning to school campuses. Our reopening plan incorporates recommendations and guidance from the Centers for Disease Control and Prevention (CDC), the New York State Department of Health (NYSDOH) and the New York State Education Department (NYSED).
It is possible that we may need to alternate between in-person and remote learning throughout the year due to recommendations and guidance from our partnering agencies, and stay-at-home orders from the Governor. The level of infection, the spread of the virus, and response to the disease in our community will be at the forefront of decision making as we move to open our schools.
Marianne Serratore, Assistant Superintendent, will serve as the District's COVID-19 Coordinator.  She will serve as a central contact for schools and stakeholders, families, staff, and other school community members and will ensure the District is in compliance and following the best practices per state and federal guidelines. 
Of course, as with every plan being developed throughout New York State, this document is fluid and will change as necessary based on guidance from the state, CDC, and NYSED and in consideration of our families and our staff. We strongly believe the services described throughout this plan are in the best interests of our students, families, staff, and community.
Guiding Principles
The development of this plan was guided by and grounded in the following guiding principles:
Safeguarding the health and safety of students and staff

Maintaining continuity of learning to all students at all levels

Ensuring access and equity for all students

Providing effective communication to the school community

Addressing social emotional well-being, and the mental health needs of our students and staff.




---
Key References
Access reference material used in the creation of VC's Returning to Learning Reopening Plan here.