Welcome to Montgomery Elementary
Montgomery Elementary School houses about 530 students in 27 classes. In addition to a comprehensive classroom curriculum, students receive specialized instruction in art, music, physical education, library, and computer education. The school sits on approximately 12 acres of land in the village of Montgomery, New York.
The cornerstone of the original building was laid in 1936, and its two-story, brick architecture inspires thoughts of the proverbial "Little Red Schoolhouse". The building's initial purpose was as a high school. Today, the first floor houses our administrative offices, the nurse's suite, the art and music rooms, speech services, and the main gymnasium, which also functions as our performing arts space. Counseling services, the computer lab, and upper-grade level classrooms are on the second floor.
In 1969, a single story addition was built on the rear of the building. Referred to as the "new" section for the last three decades, it houses nine lower-grade level classrooms, the library/media center, and an enclosed courtyard. The band room, custodial services, and our newly remodeled cafeteria are also located in the "new" wing.
Our Millennium Wing was opened in 2001. The two-story addition houses 10 classrooms, a Kindergarten room, a gymnasium expansion, and a new computer laboratory with 27 student stations. The Millennium project also provided for multiple student computer stations and a teacher station in each classroom throughout the school, as well as improvements in infrastructure allowing our building to link up with Valley Central's computer network. Montgomery Elementary continues to make strides toward integrating technology throughout the curriculum and providing meaningful learning experiences for our students.
Quick Contacts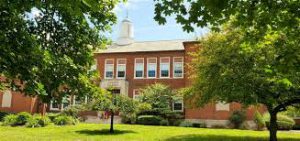 Principal
Matthew Canino
(845) 457-2400, ext.  14510
matthew.canino@vcsdny.org
Assistant Principal
Jane Malley
(845) 457-2400, ext. 14520
jane.malley@vcsdny.org
School Nurse
Christine Belknap
(845) 457-2400, ext. 14700/14701
christine.belknap@vcsdny.org 
Occupational and Physical Therapy
Maria Green
(845) 457-2400, ext.  19557
maria.greene@vcsdny.org
School Psychologist 
Adrienne Hershfield
(845) 457-2400, ext. 14640
adrienne.hershfield@vcsdny.org
Student Assistance Counselor
DASA Coordinator
Sarah Barringer
(845) 457-2400, ext. 14645
sarah.barringer@vcsdny.org