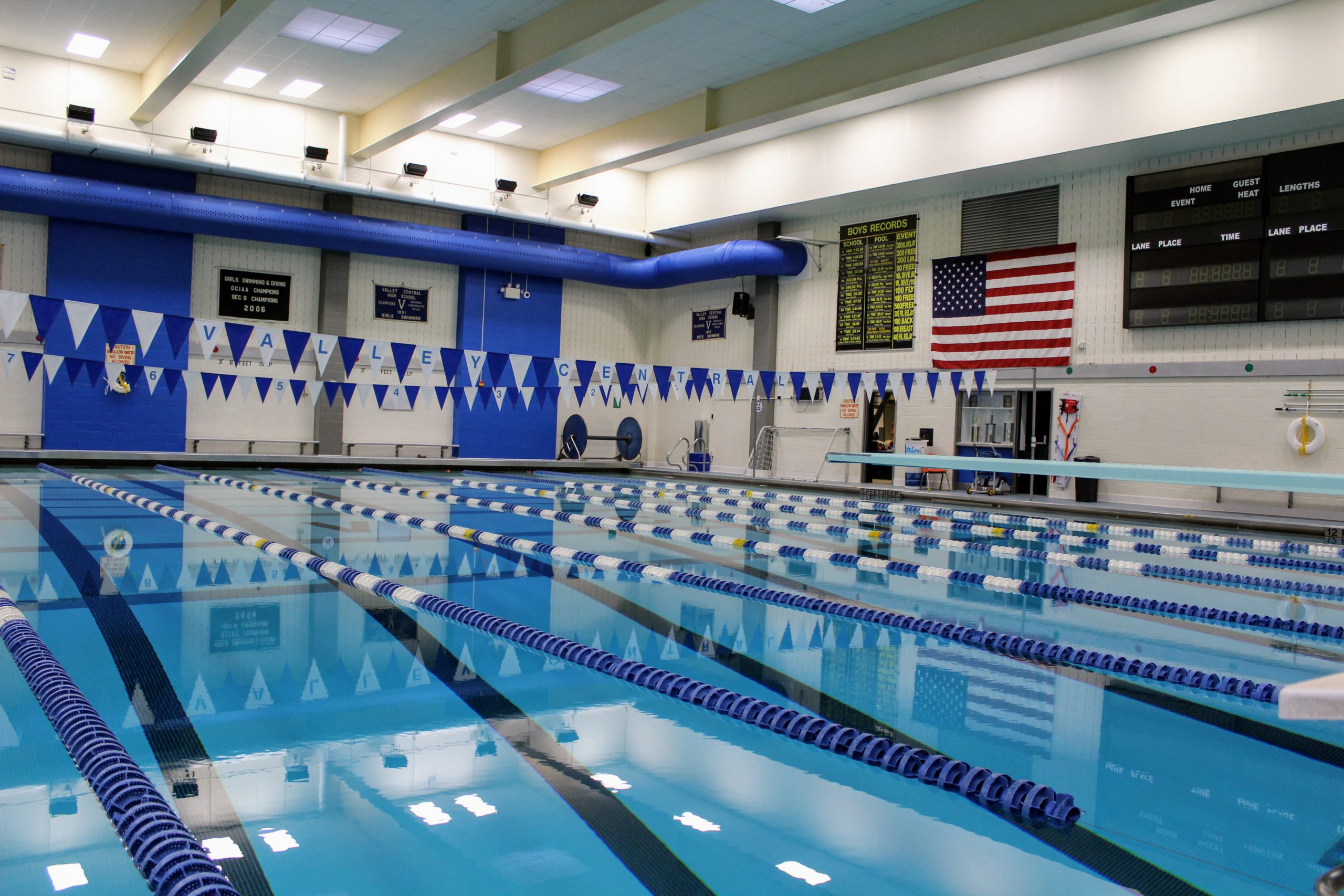 Pool Rules
For the safety of all swimmers, we must insist on the following: 
Children under the age of 8 years old must be accompanied into the water by an adult 18 years or older at all times;
Discipline policies have been established and disciplinary action is at the lifeguard's discretion. Do not question or talk back to the lifeguards or staff. Lifeguards, pool staff, and the aquatic coordinator have full authority and final say;
Report all injuries to the lifeguard or pool supervisor immediately;
Unsupervised patrons are permitted in the building only during established swimming times. A 10 min. grace period has been established for changing purposes;
DO NOT talk to the lifeguards except in case of an emergency;
DO NOT enter the water without lifeguards permission;
Running & pushing are prohibited;
NO profanity is permitted;
No food or drink is permitted in the pool area. Glass containers are prohibited at all times;
No sitting or leaning on any railings:
Swimming suits or bathing trunks of acceptable hygienic standards and style must be worn at all times. No cut-off. Persons in street clothes will not be allowed on pool deck (use spectator area);
Equipment is to be used by the pool personnel only;
Diving boards, toys, balls and other such objects during swim times are permitted with the pool staff's permission only and at the discretion of the staff on duty:
The school district is NOT responsible for lost or stolen articles. Bring your own lock if you use the lockers and remove it upon departure;
Please shower hair and entire body before swimming. There will be no excessive use of shower or loitering in locker areas;
No person having the following: Skin lesions, sores, inflamed eyes or mouth, nose or ear discharge will be permitted in the pool;
Only those with the ability to swim an entire width of the pool unassisted are permitted in the deep end;
No smoking on school grounds (inside or outside); 
The balcony is to be used to sit and view swimmers only! No running or throwing things from the balcony. Do not play on the railings.
No floatation devices. 
Diving Board
All patrons are to follow all posted safety rules;
One person at a time on the diving board;
Do NOT go off diving board until the previous diver reaches the ladder;
Forward dives only using a single bounce. Backward dives only using a press (NO BOUNCE);
Fulcrum must not be moved beyond the #3 position;
No attempting of dives beyond the individual's ability.
In case of an emergency, notify the nearest lifeguard and follow his/her instructions. Bathers are expected to leave the water promptly if requested by the guard. Swimming is only permitted when the pool is open and a certified lifeguard is on duty. 
Never swim alone. Do not swim unless a guard is on duty!